Scoreboard Sponsor – $3,500
As a Scoreboard Sponsor your business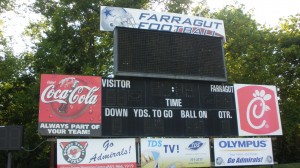 will enjoy year round exposure on the most prominent place in the stadium … the SCOREBOARD!
There will only be FOUR spots available on the game scoreboard for the 2014 season and location is on a "first come, first serve" basis.
The Scoreboard Sponsorship includes:
Year long signage on the SCOREBOARD at Bill Clabo Field
Company logo with a link to your website at the bottom of every web page at www.farragutfootball.com
A full page ad in the Farragut Football program
Your company logo on the back of t‐shirts that will be thrown into the stands during home games
Your company logo on the team posters that are posted around Farragut in prominent locations
4 season passes to Farragut home games
Social Media Add‐On Package ($100) – An optional package that includes a Farragut Football "Like" of your page or site and five (5) customized mentions on our Facebook page throughout the year. Use these mentions to reach local families with school aged children. Advertise your special offer, event or great deal. As they like the post, your reach will quickly expand.
Sponsorships run from July 1, 2014 through June 30, 2015 . Scoreboard sponsors have a 10-day "first right of refusal" for their spot as a sponsor. Sponsorship invoices are sent out on July 1st and payments are due by July 31st each calendar year.
If you would like to become a scoreboard sponsor for Farragut High School Football, please send an e-mail to info@farragutfootball.com.