Upcoming Events
There are currently no events.
In the News
Two Admiral seniors have spent months planning their college careers since hanging up their pads.  On Wednesday, February 5, seniors Bryan Phillips and Billy Williams officially signed their National Letters of Intent to Southern Virginia University and University of Northern Iowa , respectively.     #8 QB Bryan Phillips, Southern Virginia University      Son of Ken and Kim … [Read on...]
More News
2014 Player Fee Campaign
The 2014 Player Fee Campaign is in process to be launched in the coming weeks, STAY TUNED! … Read More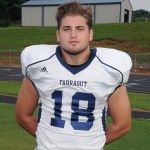 Senior LB Christian Jetton was selected Defensive Player of the Game at the 2014 Kentucky vs. Tennessee Border Bowl.
Two Admiral seniors have spent months planning their college careers since hanging up their pads.  On Wednesday, February 5, seniors Bryan Phillips and Billy Williams officially signed their National Letters of Intent to Southern Virginia University and University of Northern Iowa , respectively.     #8 QB Bryan Phillips, Southern Virginia University      Son […]